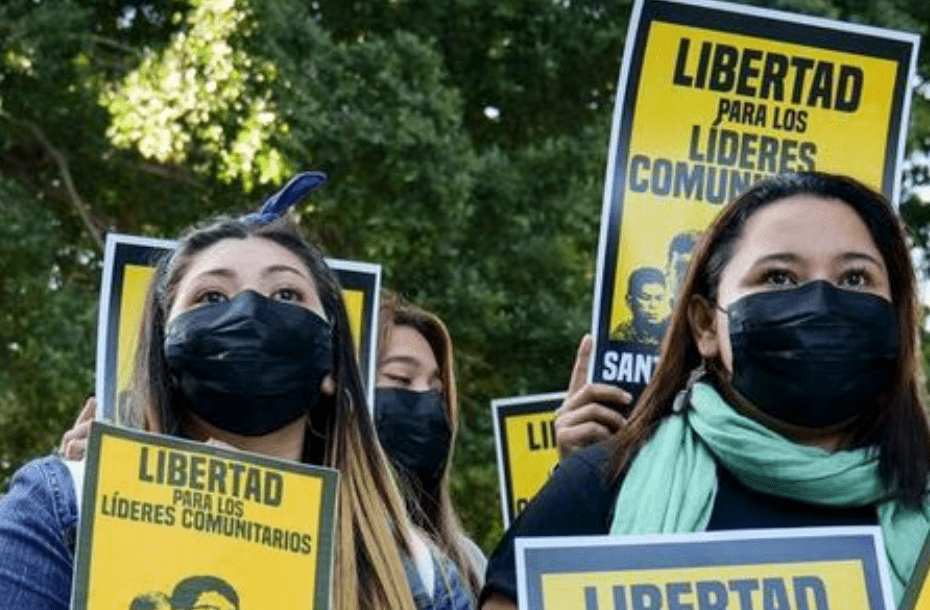 Common Dreams
Jessica Corbett
Critics warn that the Salvadoran government is "desperate for revenues" and trying to "demobilize potential grassroots opposition" to reversing a historic nationwide ban on environmentally destructive metal mining. More than 250 organizations from 29 countries came together Friday to pressure the Salvadoran government to drop the charges against and release five water defenders who were instrumental in achieving a 2017 legislative ban on metal mining in El Salvador.
Global alarm has been building since Miguel Ángel Gámez, Alejandro Laínez García, Pedro Antonio Rivas Laínez, Teodoro Antonio Pacheco, and Saúl Agustín Rivas Ortega were detained in northern El Salvador on January 11. In a case that critics call politically motivated, they are accused of murdering an alleged military informant over three decades ago and of illicit association, which the government of Salvadoran President Nayib Bukele has used to detain tens of thousands of supposed gang members.
The groups' joint statement highlights that "thanks in part to its ill-advised embrace of Bitcoin, the Salvadoran government is under enormous pressure to find new revenues" and is reportedly considering reversing the historic mining ban—despite environmental concerns and the Central American country's ongoing water issues due to the climate emergency and pollution.
"Among El Salvador's greatest heroes of this century are the brave water defenders, including several of those arrested last week."

"The five are accused by El Salvador's attorney general of an alleged murder over 30 years ago during the brutal civil war in El Salvador that claimed the lives of 75,000," explained the organizations. "The victims of crimes from that war, which saw a U.S.-backed dictatorship and right-wing death squads kill tens of thousands, have, for decades, been calling for justice."
"The current government, however, has chosen to actively uphold decades of impunity," the groups continued. "Rather than investigate or prosecute those responsible for the dozens of cases of human rights violations and crimes against humanity that members of the Salvadoran military committed against the Santa Marta community (including the murders of the Lempa River massacre in 1980, where 30 people were assassinated and 189 were disappeared), the government is now re-victimizing the community by targeting their leaders, who have been outspoken against the policies of the current government."
"This further raises questions about whether the attorney general's true motivation is to attempt to silence these water defenders, especially in light of the current administration's crusade to criminalize, persecute, and demobilize its political opponents," adds the statement, spearheaded by the U.S.-based Institute for Policy Studies (IPS)—which in 2009 honored the National Roundtable on Metals Mining, a coalition the arrested men helped build, with its annual Letelier-Moffitt Human Rights Award.
The collective demand that Bukele's government "drop the charges against the five water defenders and otherwise release them from prison to await their trial" came a day after a Salvadoran judge ruled that the case should proceed and the leaders of the Association of Economic and Social Development (ADES) Santa Marta should remain detained.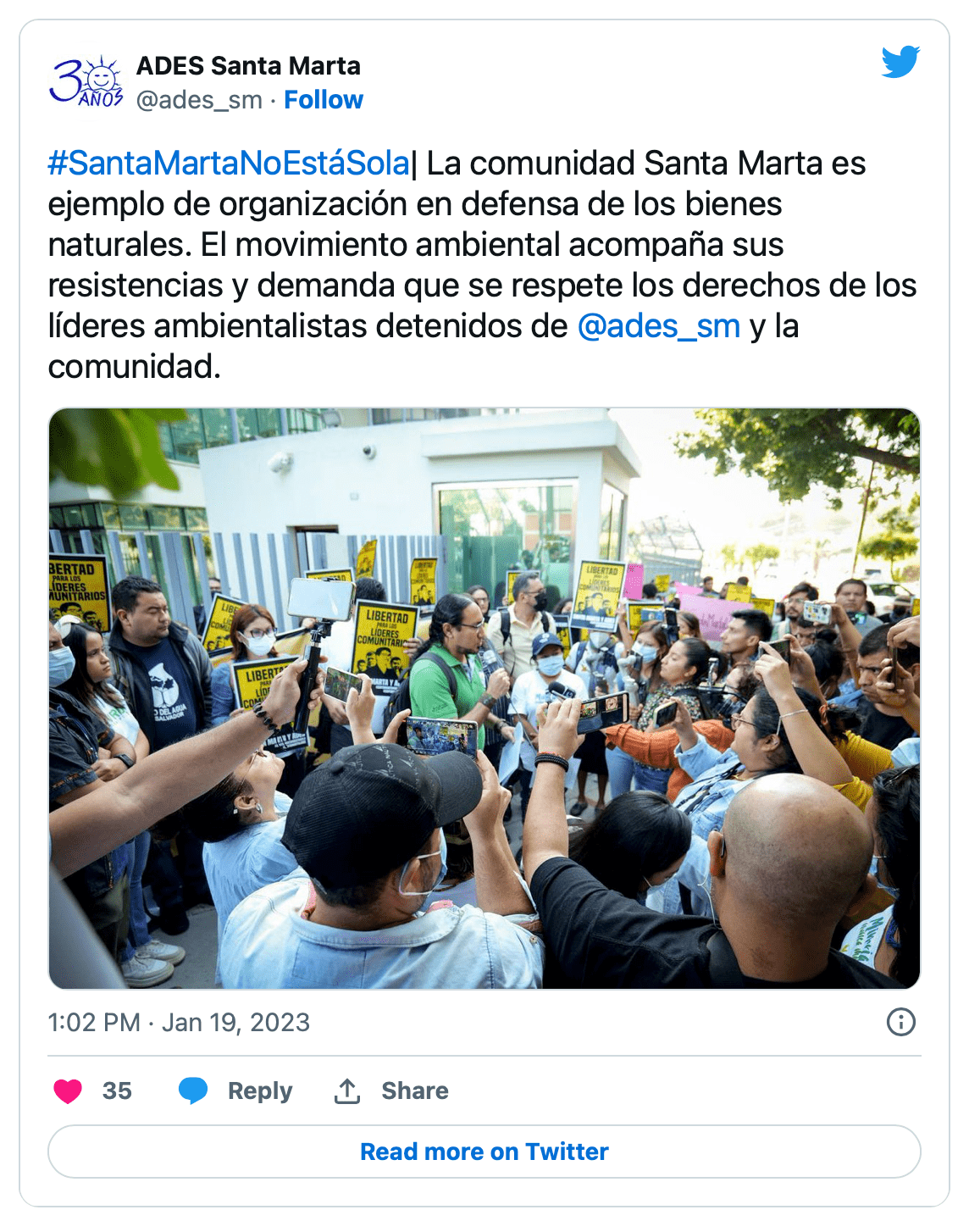 "Among El Salvador's greatest heroes of this century are the brave water defenders, including several of those arrested last week, who led the 13-year fight that culminated in El Salvador's legislature voting unanimously in 2017 to make that country the first in the world to ban all metals mining to save its rivers," IPS senior adviser John Cavanagh told Common Dreams.
Cavanagh, who co-authored with Robin Broad The Water Defenders: How Ordinary People Saved a Country from Corporate Greed, stressed that Bukele "is desperate for revenues" because he "has so mismanaged El Salvador's finances."
"So for Bukele's government, why not arrest key water defenders if you are exploring overturning the mining ban for the revenues that gold mining brings?" he said. "This is the great fear of water defenders in El Salvador. And, this is why there is now a global outcry over these arrests."
#SantaMarta | Diversos colectivos ambientalistas están afuera del Centro Judicial Isidro Menéndez, exigiendo la libertad de los líderes comunitarios de Cabañas.

Vidalina Morales, presidenta de @ades_sm, habla de la lucha antiminera que han librado.

✍🏻 @GuerreroMarvin pic.twitter.com/H8bbDOJKAm

— MalaYerba (@malayerbacom) January 19, 2023
Pedro Cabezas of the Central American Alliance on Mining said in an email to Common Dreams that "different from previous presidents, the government of Nayib Bukele has shown no interest in implementing pending aspects of the mining prohibitions of 2017, like environmental remediation and reparation for the victims of the mining conflicts."
"On the contrary," he explained, "recent government actions signal an imminent reopening of the mining sector: El Salvador joined the Intergovernmental Forum on Mining in 2021, legislation to create a Directorate of Hydrocarbons, Energy, and Mines was passed at the legislature this year, there are rumors that the current secret negotiations of a Free Trade Agreement with China involve negotiations on mining, and there are testimonies from the communities that representatives of mining companies are visiting their territories to offer social programs and to lease large quantities of land."
"With that in mind," Cabezas concluded, "the only explanation for the arbitrary detention of five community leaders of Santa Marta, the community that led the anti-mining struggle for more than 12 years in order to protect the fragile water supply in El Salvador, is to demobilize potential grassroots opposition to the government's plans."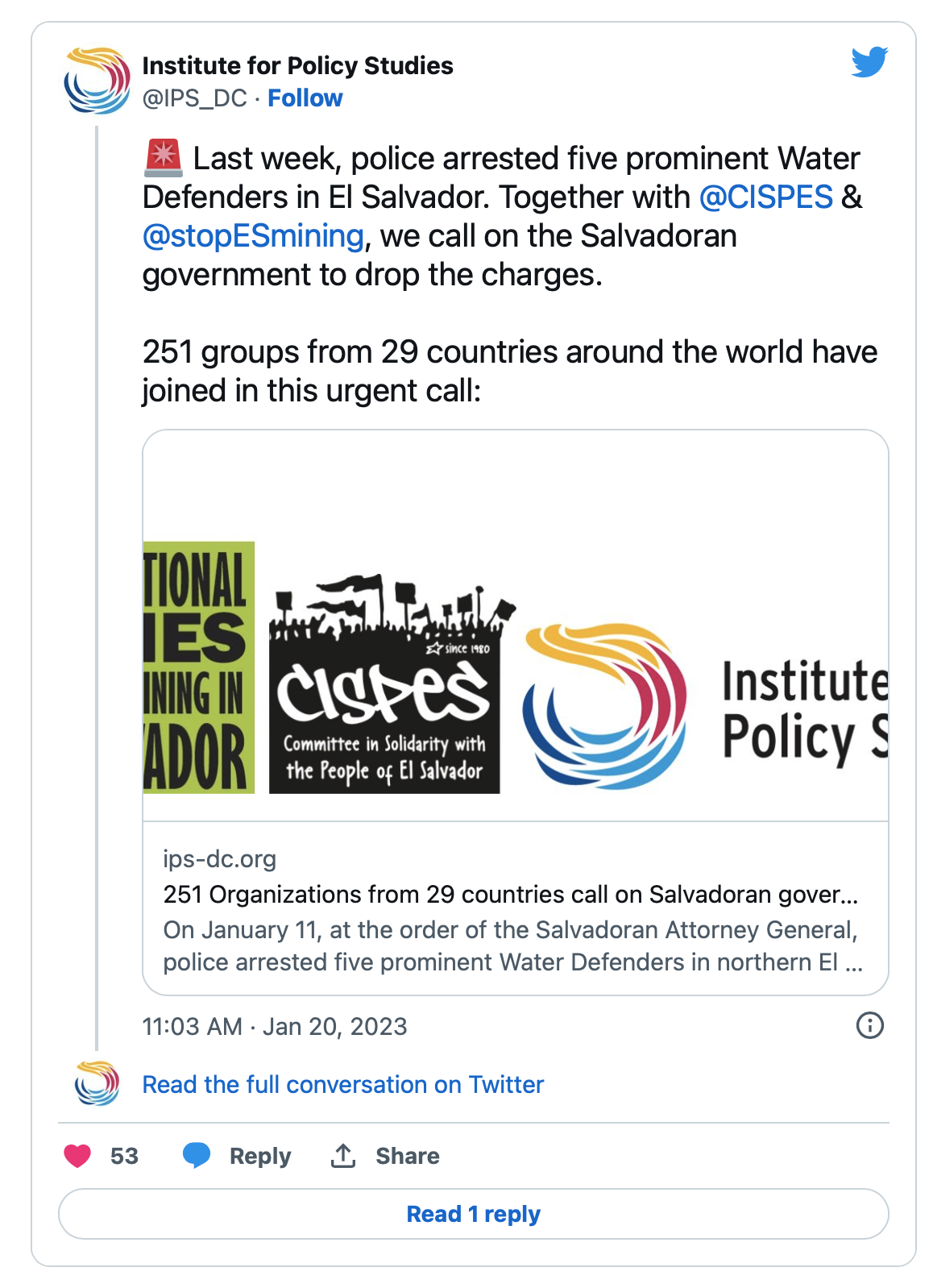 Given Bukele and Attorney General Rodolfo Delgado's track records as well as the state of exception that began in March—under which state security forces have been accused of widespread human rights abuses—advocates in El Salvador and around the world fear for the men's safety.
As Yesenia Portillo, program director at the Committee in Solidarity with the People of El Salvador (CISPES), told Common Dreams: "Under ordinary circumstances, the arrests of internationally recognized water defenders would be major cause for concern. But in El Salvador today, where torture and deadly prison conditions reign under the current state of exception, this quickly becomes a matter of life and death."
While allies of the water defenders have pointed out that "the allegations against them have major holes and contradictions, President Bukele's near-total control over both the judiciary and the prosecution casts serious doubt on whether a fair trial is even possible," Portillo said. "Since Attorney General Delgado was illegally appointed last May, virtually all cases he has brought have been sent to trial—whether there is evidence or not—and even the most compelling petitions for alternative measures to avoid a lengthy pretrial detention get denied."
"We are deeply concerned for the well-being of these men and the dangerous precedent this sets in El Salvador," Portillo added. "With these arrests, the Bukele administration is indicating to the world that their idea of 'justice' is to allow the atrocities carried out by U.S.-backed state forces during the 1980s to remain in impunity, while punishing the leaders of communities, like Santa Marta, who bore the brunt of that very violence."
Original source: https://www.commondreams.org/news/el-salvador-water-defenders